Answer:
Please use the following steps to configure FusionRetail6 with an Samsung Ethernet printer.
Step1: Install the Ethernet configuration Driver and setup the IP port
Please use the following link to install and configure the Bixolon Ethernet configuration Driver
Step2: Setting up the Generic Text printer for DOS mode printing
Install a Generic Text printer in the local PC
Open the Properties of that generic text printer
Select Standard TCP/IP Port from the list and press the New Port button. It will open a wizard.
Click the Next button
Enter the IP address of the printer then click on the next button.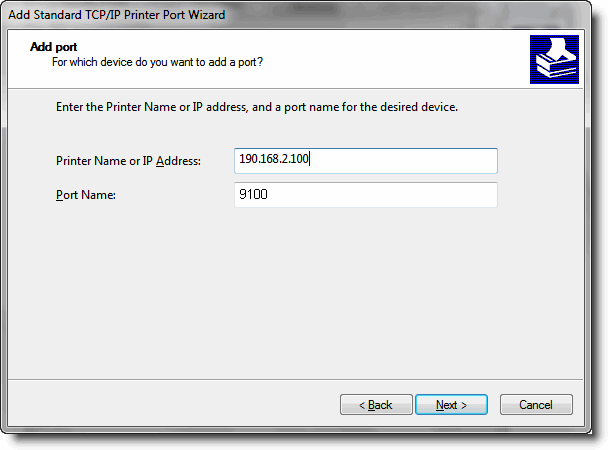 Click "Next" in the following Window.
Now click on the "Finish" button
The property page display again with the New IP port (selected) Click on the "Apply" button.
Now click on the Printer Command tab (OPTIONAL)
You can put the following codes in the boxes (OPTIONAL)

Begin Print Job:

<1B><21><10> Make print Large Size Or
<1B><21><00> Make print Normal Size Or
<1B><21><01> Make print Condensed Size

End Print Job:

 <1D><56><42><00> Trigger Auto-Cutter Or        
 <0A><0A><1D><56><42><00><0D>
Note: For some printers, you must add <0D> onto the end of each sequence above.
Click on Apply Button.
Select The Device Setting Tab and Make all the setting to 6 ¾ Envelope
Now press Apply and OK
Go Printing Preferences >Advanced>Paper Size set it as Letter
Press Ok button
Make the printer Default  
Give an Test Print and check the printer.
Step3: Set Up in FusionRetail6 For DOS Mode printing
Select the current station name from list.
Set the focus to Bill Printer.
Press Ctrl+N.
Provide a device name
Select DOS as Driver Type.
Set the printer port as default
Save and Exit.
Select the Bill Printer name from the list and save
Note: Now your Ethernet printer is ready to print with FusionRetail6.
 For more detail please visit: